How do I start my relationship with Jesus?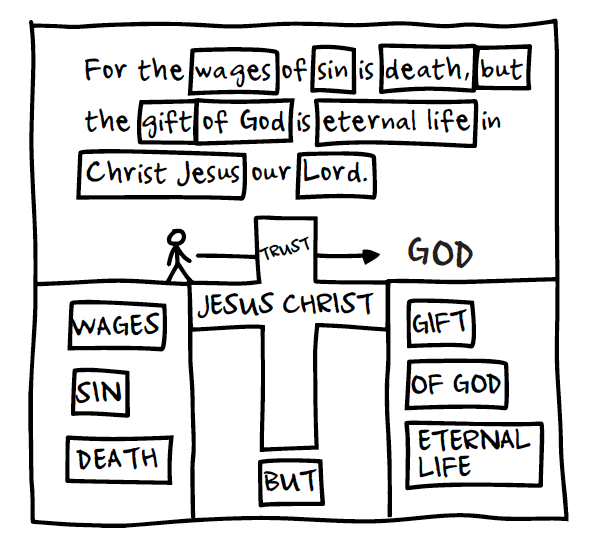 Romans 6:23 is a verse in the Bible that sums up what we call the Gospel in one simple verse. Read below to understand how you can begin you own relationship with Jesus as explained in Romans 6:23.
"Wages"
Circle the word "wages" and ask yourself, "How would I feel if my boss refused to pay me the wages that were due to me?" I am guessing you would want justice—in this case, the wages you had worked for. Deep down, we all know that it is only right that we get what we deserve. Similarly, we earn "wages" from God for how we have lived our lives.
"Sin"
Draw a circle around "sin," what do you think of when you hear this word? Sin is more an attitude than an action, it can be either actively fighting God or as simple as excluding Him from your life. Ask yourself, "Has God ever seemed far away?" If your answer is "Yes," that's one of the things sin does—it makes God seem far away. Sin makes us feel separated from God, makes us want to hide from Him even.
"Death"
Circle this word and ask yourself what thoughts come to mind. Death in the Bible always means some kind of separation—in its most basic sense, separation from life. Because God is the author of life, a spiritual death simply means separation from Him.
"BUT"
While circling this word, mention that it is important because it means that a sharp contrast in ideas is coming. What we have just looked at is the bad news; what comes next is the good news.
"Gift"
Draw a circle around this word. Again ask yourself, "If wages are what I earn, then what is a gift?" Even though every gift is free for the person receiving it, someone still has to purchase it.
"of God"
The gift in Romans 6:23 is free and it is from God Himself. It's so special that no one else can give it. How do you feel when someone gives you a special gift?
"Eternal Life"
Circle these two words next, and then ask yourself, "How would I define these words?" Think about the two different cliffs in the picture above, on one side of the cliff there is death and on the other eternal life. What is the opposite of separation from God?
"Christ Jesus"
Jesus came to create a bridge between the two cliffs. Every gift has a unique giver, and only Jesus Christ can give the gift of eternal life according to the Bible.
"Trust"
A true friend is a friend you can trust, and Jesus is offering to be your true friend. All you have to do is admit that you is responsible for your sin—either of fighting against God or excluding Him from your life. Trusting Jesus means believing that He has power to forgive you for rejecting God and that He will wash you clean from all that you have done wrong in life. If you want to start a relationship with God that will last forever simply pray a short prayer in your own words, asking Jesus to forgive you and make you new.
Remember that God really cares about people—about you. Now that you have started your relationship with Jesus we want to encourage to start off reading all about God's love for you by getting a Bible or downloading a Bible App (we have a link to one on our site) and start reading the Gospel of John. If you are ready to start reading now you can CLICK HERE to go to John 1 and get started.